RIP Alan Rickman: A Geek Icon
Yesterday nerds everywhere felt the full impact of Cinderella's words, "You don't know what you got till it's gone." Veteran of stage and screen Alan Rickman has passed away from cancer at the age of 69. And as I reflected on this (so soon after Bowie!), something surprised me.
The surprise was not that we had lost a fantastic actor who was the perfect foil to braggadocious protagonists. As well-dressed terrorist Hans Gruber in Die Hard, frustrated Shakespearean actor Alexander Dane in Galaxy Quest, and especially Professor Severus Snape in the Harry Potter movies, Rickman played the disgruntled faux-aristocrat we loved to watch butt heads with heroic low-class mavericks.
The biggest surprise to me, on review of these and other roles, was the realization that the geek world had lost an icon.
After all, what geek friend do you know who hasn't run across Rickman's work? His roles are so monumental that both his face and voice are instantly recognizable even to casual movie fans who might not know his name.
Rickman did what really inspires that fanatical nerd-love, and that's make flawed, empathetic, and very memorable characters against unusual backdrops. And the best example of this is undoubtedly Professor Snape.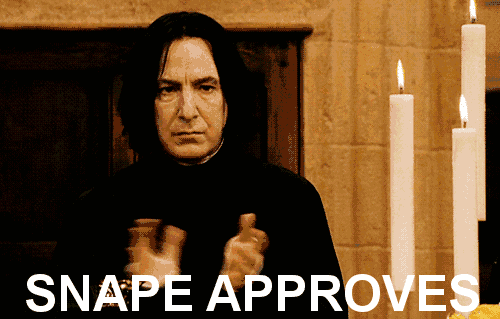 I'm not exactly the world's biggest Harry Potter fan, but no one who uses the Internet can fail to appreciate that for fully ten years, Rickman brought to life what is most likely Harry Potter's most complex character. For a certain generation, he arguably made a larger impact than Darth Vader. And although Snape was already a fascinating character on the page, does anyone doubt that Rickman is Snape at a level greater even than Daniel Radcliffe is Harry Potter?
So although this fantastic actor is gone, we can take comfort in that his roles will likely live on forever – like Lionel Barrymore's Mr. Potter in It's A Wonderful Life and Peter Cushing's Grand Moff Tarkin in Star Wars, we can expect countless future generations to continue to discover Rickman through his invaluable participation in seminal pop culture films. Small consolation now, I know.
For now enjoy what is perhaps Rickman's shortest performance – fittingly enough, it is more like a living picture than it is a short video. But in 7 minutes which is likely something like 20 seconds of real time, we can appreciate so much of what Rickman brought to his most famous roles – the scowl, the festering rage, the flawed sense of class and the slight sense of exaggeration he brought to all of those elements. In this way, he fitted the outlandish universes he was sometimes set in, but his intensity and gravity always made him seem like the most real person there.